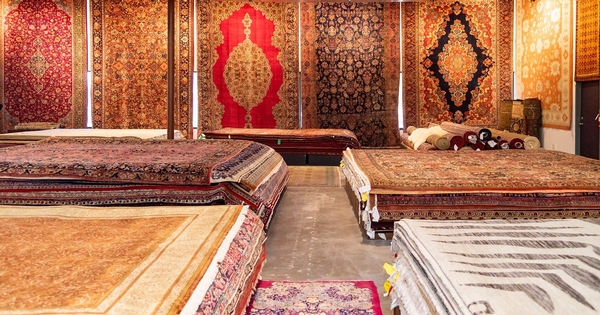 About Us
Pride of Persia Rug Co. is a full-service Oriental rug company in Houston, Texas specializing in older and unusual genuine Persian rugs along with high-quality newer rugs from around the world. Our selection of beautiful hand woven rugs, from antique collectors' items to modern decorative pieces, is simply outstanding. Contemporary rugs and custom rugs complete the collection in our sister shop, Postmodern Traditions. Our full range of Oriental rug services includes wash and repair, basic maintenance and major restoration.

Pride of Persia is just inside the 610 Loop at 7050 Portwest Dr. in the Westport complex. Click here for a map or call 713-522-7870 for directions and an appointment. Our hours are 10:00 AM to 6:00 PM, Monday through Saturday.

Whether you are a rug connoisseur, design professional or market novice, you are certain to find treasures at Pride of Persia. We strive to give every customer our full attention, so please call or email us today for an appointment.
About the Partners
When Mehdi Abedi moved to Houston in 1981 to complete his Ph.D. in Cultural Anthropology at Rice University, he also returned to his rug roots. Mehdi says, "One of the first sounds I ever heard was the sound of weaving." All four of his sisters were accomplished weavers in Yazd, Iran. His daily route to school took him past the boiling dye pots and brightly colored wool hung to dry in the alleys.

Beginning with just 10 small Hamadans in 1981, he built an extensive collection and a loyal clientele. A few years later, he began teaching other enthusiasts about Persian rugs through continuing education courses.

Lisa Slappey arrived in Houston in 1991 to complete her Ph.D. in English at Rice University. She soon joined Mehdi in selling Persian rugs by private appointment. To display the growing collection, they acquired exhibit space in Carolyn Thompson's Antique Center of Texas in 1996 and Pride of Persia Rug Co. was born. The shop later expanded to feature about 4,000 rugs in a showroom of nearly 8,000 square feet. In March 2009, Pride of Persia grew again by opening a beautiful new showroom in the Houston Design Center.
To meet the growing demand for Tibetan-style rugs, Abedi and Slappey opened Postmodern Traditions Custom & Contemporary Rug Gallery in June 2011.
In March 2018, Pride of Persia Rug Co. & Postmodern Traditions joined forces in a 9,500 square foot space in the Westport complex facing Old Katy Rd. This shop features an extensive collection of antique and unusual Persian rugs from the cities, tribes, and villages of Iran along with select lines of handwoven custom, contemporary, and decorative rugs from around the world.